Global Travel Media, 14 February 2023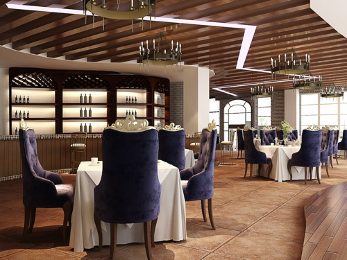 WizButler is a revolutionary restaurant booking system that differs from all other existing systems. It dynamically allocates and reallocates bookings to a restaurant's space, instead of attempting to create static allocations to one set of tables and table combinations.
The WizButler system works in real-time to efficiently optimise a restaurant's space, allowing for up to 50% more bookings to be accepted online than any other online booking system in the world.
No stranger to the restaurant industry, former GPO Grand Group restaurateur Peter Petroulas invented this world-first booking system that also dynamically redraws the table layout and floor plan in real-time so staff can know how to set up the dining room in accordance with the booking requests. This "Dancing Tables" booking system was awarded a US Patent late last year which the IntraCom Group GmbH valued at US 177.8 million (AUD $275 million).
By being able to take more bookings, WizButler's space management system is helping restaurants generate more revenue, helping restaurants overcome the current pressures of inflation, increasing interest rates and customers with lower levels of disposable income.
According to Petroulas, there are three key problems that have held back the personalisation and digitisation development of restaurants that other online booking systems cannot solve, which WizButler was created to overcome.
Firstly, all other booking systems on the market can only consider one fixed layout of tables and table combinations which fails to optimise the space within a venue, therefore failing to maximise the number of bookings and revenue a restaurant can generate. For example, we have all heard stories of customers who were unable to book online but were allocated a table manually after they called the restaurant. In fact, in many cases, restaurant owners do not even know they are missing out on extra bookings as they are not given a report of how many bookings their system has rejected.
Secondly, every time a new booking request is received, all previously received booking requests are unseated and dynamically reallocated in real time, with the algorithm taking the new request, together with all other requests into consideration. This means that at any point in time, the allocations are made with complete knowledge of all the requests that currently exist, and it is this process that assists the optimisation of the space.
Lastly, WizButler is customer-centric. It can recognise a VIP customer online and automatically allocate them to their favourite table, and it can also use different allocation rules for different customers. For example, a hotel could allocate inhouse guests using different allocation rules than for non-hotel guests. WizButler also gives customers the ability to add flowers, select a special bottle of wine, extend their dining duration or be given the option to select a better table – this personalisation not only helps make customers happy it can also generate significant additional revenue for restaurants.
"In an increasingly competitive industry, personalised features are invaluable – plus restaurants can use these insights to provide customers with memorable and unique experiences to ensure their return," says Petroulas.
"Prior to the introduction of WizButler, these inefficiencies despite being well-known have held the development and evolution of restaurants back for years as no one could previously solve them. Specifically, professors from MIT, Cornell University, Apple, Amazon, IBM, Disney, OpenTable, as well as PhD thesis have tried to solve these problems during the last 20 years without success. These problems have now been solved and restaurants that embrace the new WizButler technology will lead the revolution with greater customer personalisation. Imagine a customer having complete control of their dining experience and walking into a restaurant that they have never been to before, on the other side of the world and being treated like their most regular customer."
Director of 8 at Trinity, Natalie Johnson, who has been using WizButler since opening in October 2019 and receives 95% of all bookings through the platform, said, "The WizButler system allocates all our booking requests including waitlists while introducing extra tables and removing tables or rearranging tables to maximise the bookings taken. This is a lot more than what could be done manually. Plus, it allows our staff to focus on what matters most, ensuring the customer has amazing food and an amazing experience".
Director of Left Bank Melbourne, Stan Delimitrou, who has been using the system since the beginning of 2022, says, "We rely on WizButler to make our booking allocations. On a busy Saturday night for one seating, say 7pm, WizButler has increased the bookings taken from 220 people to 300 people and maximises the use of our space, plus the WizButler mobile seating app helps us seat all 300 people within 15 minutes."
"There's never been a time where a technology like this was more needed by restaurants as they continue to face the headwinds of rising costs, increasing interest rates, labour shortages and customers who have less disposable income and are adverse to increasing prices," said Delimitrou.
Source: https://eglobaltravelmedia.com.au/2023/02/14/wizbutler-revolutionising-the-restaurant-industry-with-its-patented-dancing-tables-booking-system/